Site Signage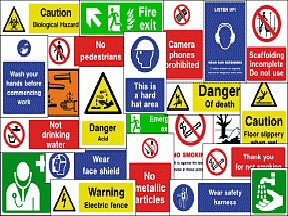 Warning Signs. Yellow triangle with a Black border to alert of all possible dangers on site.
Mandatory Signs. Blue and White and must be obeyed i.e. Hard hats and footwear must be worn.
Prohibition Signs. Red circle with a Red line with Black images with White text on a Red background.
Safe Working Conditions Signs. Rectangular Green signs with White writing giving general information relating to First aid – Assembly points and First aid stations
Fire Equipment Signs. Red rectangular with White wording.
Note: Safety is the responsibility of all site personnel and if any unsafe observations are noted then immediate action in notifying line managers or resident H&S Officer should be made.