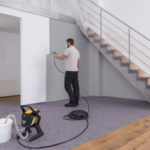 Spraying Painting- why not?
Spray painting is not difficult; pull the trigger, paint flows, release the trigger, paint stops.
Traditional painting methods by brush and roller can be time consuming but today even though masking up of areas may be necessary, spray painting is more efficient.
Included in today's range of spray equipment are low pressure units which reduce the amount of masking up needed.
While training is required, there are academies where the basic principles of spraying can be mastered within the day.
Once mastered the benefits associated with spray application including speed and cost savings are readily appreciated.
See range of spray units under: And much more : Advanced Decorating Skills
The range of equipment available for the domestic and industrial applications readily available from manufacturers include: https://www.wagnerspraytech.com
Paint Like a Pro. https://www.youtube.com/watch?v=RNRay1oMHfU&feature=emb_rel_end
https://www.wagner-group.com/uk/guide/construction-site-guide/