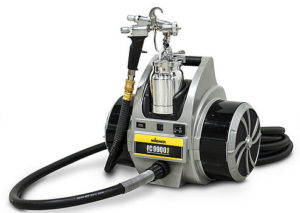 HVLP (high volume low pressure). The advantage of HVLP spray units is that they operate on a lower pressure, therefore, can be used within a domestic area as little overspray is created.
Ideal for spraying decorative paints and in particular multi-colour finishes.
As overspray is minimal, the use of this type of spray unit is very cost effective as the time spent on masking and sheeting is reduced.
Spray equipment available from companies such as: Wagner-group Ltd.
https://www.wagner-group.com/uk/contractor/products-and-accessories/product/finecoat-9900-plus/