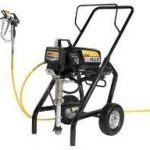 Airless Spray
Today's High Efficiency Airless (HEA) spray technology makes the application of paint more versatile and suitable for both exterior and internal projects due to a lower pump pressure being required. This reduction means the degree of overspray is reduced up to 50% which results in less masking up being necessary. The spray patterns can be varied therefore smaller areas and cutting in can be sprayed with ease.
Oil and water based paints can be applied by airless spray and paint manufactures data sheets will advise as to which set up and tip size is required for the best results.
The advantage of HEA is its versatility of use for either interior or exterior work as well as reduction in masking up and speed of application compared to brush or roller application.
Airless Spray General.
Airless spray pumps are available in a range of different pump sizes/ratios depending on the material to be used. The units available will accommodate products from standard emulsion paints to high build and thixotropic products. Therefore advice should be sought to establish which would be the appropriate for the project.
Spray equipment available from companies such as:
Wagner-group Limited – https://www.wagner-group.com/uk/our-company/