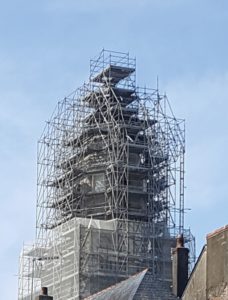 Working at height
Scaffolding should only be erected by qualified personnel who have undertaken training and gained a CISRS (Construction Industry Scaffolding Record Scheme) card.
Under no circumstances should any attempt be made to rectify any observed defects for example couplings that have become loose or broken or split scaffold boards must be reported instantly to the site Management Office and Health and Safety Officer.
Although there are different types of scaffolding products there are three which are generally referred to and are based on the same range of metal tubing and fittings.
Other scaffolding types: Birdcage scaffold – Independent/ Two Pole Scaffold – Putlog Scaffold – Cuplock and Kwikstage.
PPE Must be worn at all times when working at height.