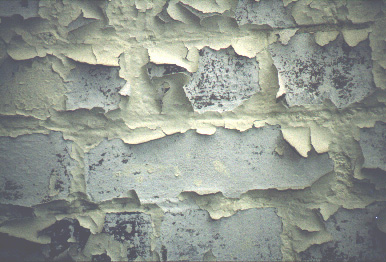 Limewash/ Soft Distemper Flaking
Cause
The characteristics of both products are similar and binders can be added to both for external use.
When underbound surfaces are present often an alkali resisting primers or stabilising solutions are recommended to consolidate the powdery surface. While this will bind the top layer to overcoat with Acrylic, PVA water based finishing paints over a period of time problems as shown can occur.
In the illustration the failure is because the tensile strength of the top coats is greater than its adhesion onto the underbound material causing cracking, shrinkage and subsequent flaking.
Remedy
Remove all loose, flaking material by the most appropriate means followed by washing down to remove all underbound material and allow to dry.
Priming.
Apply one coat of stabilising solution by brush to consolidate the residual powdery material.
Note, after the application of the stabilising solution should the surface appear glossy then this should be thoroughly abraded before applying water based PVA and Acrylic based paints.
Finishing coats.
Apply the selected finishing paint, following the manufacture's instructions, including any necessary Personal Protective Equipment.
For further product information:
https://www.duluxtradepaintexpert.co.uk/en/services/architects-specifiers
https://www.johnstonespaint.com