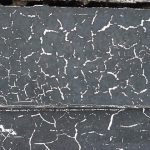 Crows footing
Cause
Problems of this type occur when coatings, particularly water based paints are applied onto a surface which has a higher sheen level resulting in the adhesion quality of the newly applied paint being low, for example a matt emulsion being applied over a vinyl silk or an oil based coating.
It can also occur when water based paints are applied to new plaster without being thinned as a sealer coat. This can result in the VOC's (Volatile Organic Compound) being quickly absorbed into the surface resulting in poor adhesion of the coating. Consequently, as the newly applied paint hardens the tensile strength of the newly applied paint film begins to shrink and cracks in the paint film appear.
After rubbing down and face filling with a fine plaster filler, applying a paint coating of a higher sheen level will in most cases overcome the problem.