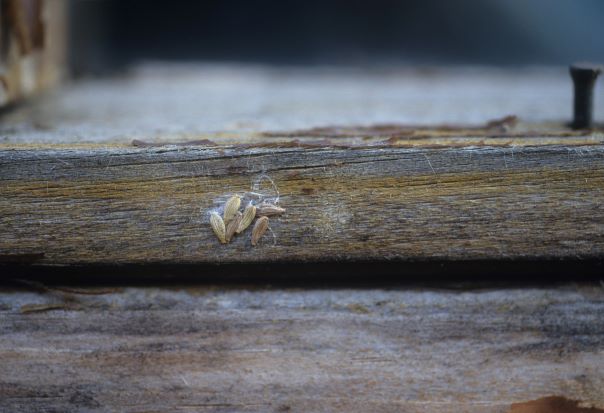 Blue wood staining.
As the wood has been stained by moisture, the staining may be difficult to remove, therefore the application of clear or translucent coatings may not be successful, therefore, repainting with opaque finishes maybe required.
For repainting with opaque coatings the following system is suggested.
Preparation.
Check that the moisture content within the wood is below 20%, if not then forced drying may be necessary.
Thoroughly sand down and remove all surface contaminants to leave the surface clean and dry.
Apply one coat of Fungicidal Solution and allow to dry. Re-check the moisture content before painting.
An application of Oxalic Acid (wood bleach) my help to remove part of the staining
Priming /Undercoat /Finishing.
Apply a microporous coating oil or water based, opaque or translucent in accordance with the selected manufactures recommendations.
Microporous paints can be obtained from manufactures such as:
Jotun Paints (Europe) Ltd. Demidekk : https://www.jotun.com/Datasheets/Download?url=%2FTDS%2FTDS__28142__DEMIDEKK+Ultimate+Opaque+Coating__Euk__GB.pdf
Johnston's Paints. https://www.johnstonestrade.com/product/flexible-gloss
Dulux Trade Paints. https://www.duluxtradepaintexpert.co.uk/en/products/products-listing/all